May
9
Imran H. Khan
Rob discovered the Assateague Island while on his many trips to the Philadelphia area. Being naturally gifted in painting animals and birds, this sanctuary provided him an ideal set of subjects for his paintings. He was particularly attracted to the wild horses that are found there. I have presented some of his paintings here.
Hope you enjoy them as much as I did.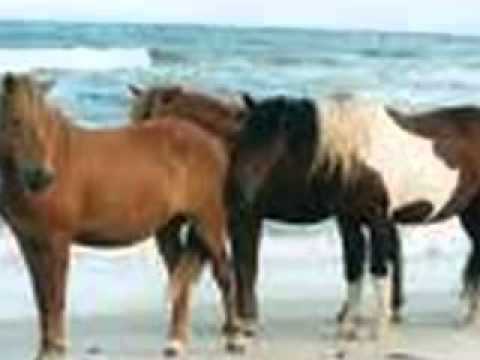 "My first visit to Assateague Island National Seashore in Eastern Maryland to see the Wild Ponies was a truly emotional and inspiring experience.
The Ponies have lived on the island wild and free of human intervention since the 1700's.
Many return visits allowed me to capture the intimate moments and interactions of these beautiful creatures.
One particular family band, consisting of a six week old filly foal "Serafina" her mother "Mama' and father "Daddio" plus two additional mares, are the inspiration of this body of work.
Following "Serafina's" growth over the past three years has been rewarding. Watching her learn to roam with her band, foraging the marsh grasses, preparing for the harsh winter or running onto the beach to escape the biting flies of summer, propels me to capture these moments on canvas."
Click on the image below to get to the album.
Two herds of wild horses known as "ponies" by an adoring public make their homes on Assateague Island. The herds are separated by a fence at the boundary between Maryland and Virginia. In Maryland, horses are often seen around roads and campgrounds. In Virginia, look for them in Black Duck Marsh from observation platforms along Beach Road and Woodland Trail. The Maryland herd is managed by the National Park Service. The Virginia herd is owned by the Chincoteague Volunteer Fire Company and allowed by permit to graze on Chincoteague refuge. Each year horses from the Virginia herd are rounded up and many of the foals are sold at the Pony Penning and auction held on the last Wednesday and Thursday of July. Proceeds from the auction help support the fire company.
Today's wild horses on Assateague Island are descended from domesticated stock that was grazed on the island as early as the 17th century by Eastern Shore planters. The planters grazed their horses here to avoid mainland taxes and fencing requirements. Only slightly smaller than many other horses, these shaggy, sturdy animals are well adapted to their harsh seashore environment. Marsh and dune grasses supply the bulk of their food; they obtain water from freshwater impoundments or natural ponds. Although domestic in their distant origins, these horses are wild today.
Views: 7478Share
Tweet This Post
Comments