Jul
3
Imran H. Khan
We are told that Imran Khan stands a good chance of becoming the next Prime Minister of Pakistan, whenever the elections are next held. Many question whether he has the necessary organization and money in place to make a realistic run for it.  He was planning to make a fund raising trip to the US to raise the much needed funds for conducting an effective electoral campaign, but the trip was canceled/postponed at the last minute due to rapidly changing political situation with the expulsion of ex PM Gilani.  Until recently I was a luke warm supporter of Imran because of his sometimes not well thought out statements. Recent rapid changes in the socio-political landscape in Pakistan has confirmed the worst case scenarios for all the other political entities as being inimical to the health of Pakistan and Pakistanis. PPP has earned its wings as the Pakistan's Plundering Party, Sharif's have no concept of conflict of interest or respect for law, MQM is essentially a fascist party and different garden varieties of "Islamic" parties are anything but, and closet sympathizers of criminals and power grabbers under the guise of jihad. With all his public and private short comings, Imran Khan has been left the last man standing. His understanding of world affairs is better than all the heads of the other parties combined.  His views on Islam are not Arabized and has a healthy dose of patriotism.
So what if he cannot come to our cities, our houses and our gatherings. He is just a single person fighting for all of us. He has essentially put his life on the line in order to see a better future for Pakistan and the region. Why do we wait for him to come. Is the situation not grave enough to get of our tushes and contribute towards PTI's efforts to right the trends in Pakistan and the region. I believe mankind dodged a bullet when PAF's F-16 were unable to detect the US helicopters that raided Abbottabad. Had a firefight ensued it could easily have escalated to the air forces of the two countries going at each other. It does not require much of an imagination to see that tactical nuclear weapons could have been resorted to by either party.  The way that raid was conducted was I believe to most reckless act of our "intellectual" President.  The fact that we dodged one bullet does not mean that all is well. The fact is that Gen Kayani has given an unambiguous order to his forces that should Salala like incident happen again, there will be no limit to the response.
It is imperative for all inhabitants of the Northern Hemisphere that we have a responsible and capable leadership in Pakistan to navigate it through the next decade. The chances of a nuclear outbreak are the greatest when one nuclear power thinks that it can somehow physically snatch over a hundred nuclear warheads from an capable military machine. Such is the arrogance of a waning super power.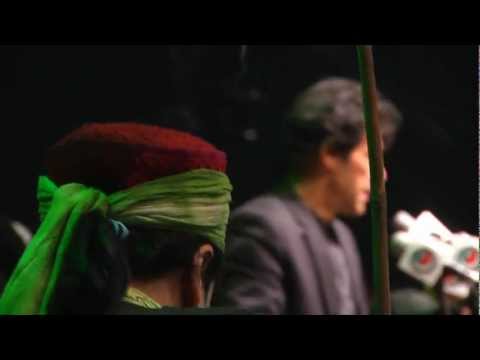 I am requesting you as a responsible person that the best $20 you can spend for the health of the planet is to donate it towards the PTI party of Imran Khan so that they can win in the upcoming elections in Pakistan next year. You can do it at
or
If you agree with the sentiments written here then please share this page on your facebook account using the facebook button below and create a tsunami through the social network.
Views: 15290
Share
Tweet This Post
Comments